The Educate Africa Institute (
EAI
) has discovered that the government of Ghana is wildly reducing the value of education in the country. The fact is that the government has partially trained teachers and has furnished over 150,000 teacher resource packs that contain a summary of the curriculum. Also, has informed the general public that the old education policy has been changed but on the grounds, that it's a fallacy.
According to what EAI has gathered, for over two and half years now, there are no new teaching and learning materials including textbooks. And, so the Ghanaian teachers are being forced to continue to teach with the old but limited materials to deplete the teaching periods.
Statistics:
We did live and secrete interviews with most teachers and pupils/students across the below sixteen (16) regions as to whether they have all the needed materials to facilitate teaching and learning in schools both public and private. The TLMs mean Teaching and Learning Materials.
Now, we need to know about this, school is a well-established institution for formal education. And, the process of going through the academic disciplines to acquire knowledge and skill is what we called it education. For example, visiting the laboratories, computer labs, audio/visual materials usage, puzzle toys for kindergarten, playing equipment like a seesaw, football parks, volleyball courts for physical education (P.E), playing piano, reading textbooks, etc. helps comprehensive teaching and learning in schools.
The new curriculum may turn out to be a mirage if the necessary teaching and learning materials are not provided in time.
Some challenges uncovered:
1. Lack of Teaching and Learning Materials (audio/visual) and a serene environment that is supposed to enhance effective teaching and learning.
2. 93.7% of schools especially those in the rural areas don't have computers and internet access. And, so they are teaching and learning Information and Communication Technology on chalkboards.
3. There are 5,403 schools under trees and in dilapidated structures with 2,417. The northern region has 304 schools under trees and 229 deplorable structures. And, over 7,000 pupils lack furniture in Bunkpurugu-Nakpanduri district, Northeast region.
4.  97.2% of teachers are psychologically molested and wobbling in poor conditions of service.
5. The teacher unions that are expected to advocate for the well-being of teachers are only interested in monthly dues and mutual fund increments.
5. The government has tamed well-trained professional teachers to be silent on the issues. Due to that, they are too coward to complain to the media just to protect their jobs and scanty monthly salaries.
6. Government is yet to settle an amount of GHC315million Capitation Grant Arrears.
7. School children are being forced to pay electricity and water bills.
Proposals.
1. The government must provide all educational needs to ensure quality education.
2. It is time to polish and localize our educational curriculum holistically with serious technical and vocational skills.
3. The concentration should not be on those in the cities alone. We must widen the scope.
4. Depoliticize Ghana's educational policies, activate the national policy, and avoid party manifestos.
5. The government must relegate the missionary schools to the churches.
6. COCOBOD and other scholarship schemes must be awarded to needy children etc.
Our intentions.
Educate Africa Institute (EAI) is ready to support the government in terms of human resources to renovate the education sector rapidly.
However, our culture as a country is weighty and we must not compromise. We need not be in haste to implement any educational policy that may not stand the test of time.
Signed
WILLIAM BOADI
CEO of Educate Africa Institute (EAI) and Educationist.
Contact us for details: 0541935106.
The Report is available on our website; www.eaiglobal.org
Cc:
THE MINISTER OF EDUCATION
THE CHAIRMAN OF, THE GES COUNCIL
THE DIRECTOR-GENERAL, GES
THE GENERAL SECRETARY, GNAT
THE NATIONAL PRESIDENT, NAGRAT
THE NATIONAL PRESIDENT, CCT GHANA
EAI, WE EDUCATE AFRICA.
Check the document for statistics.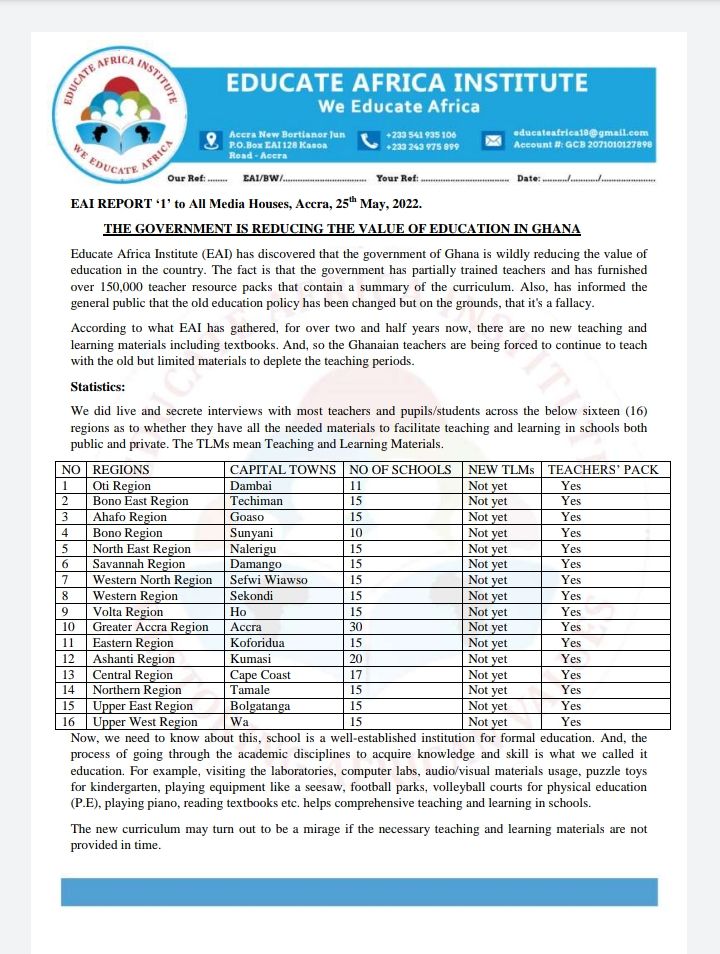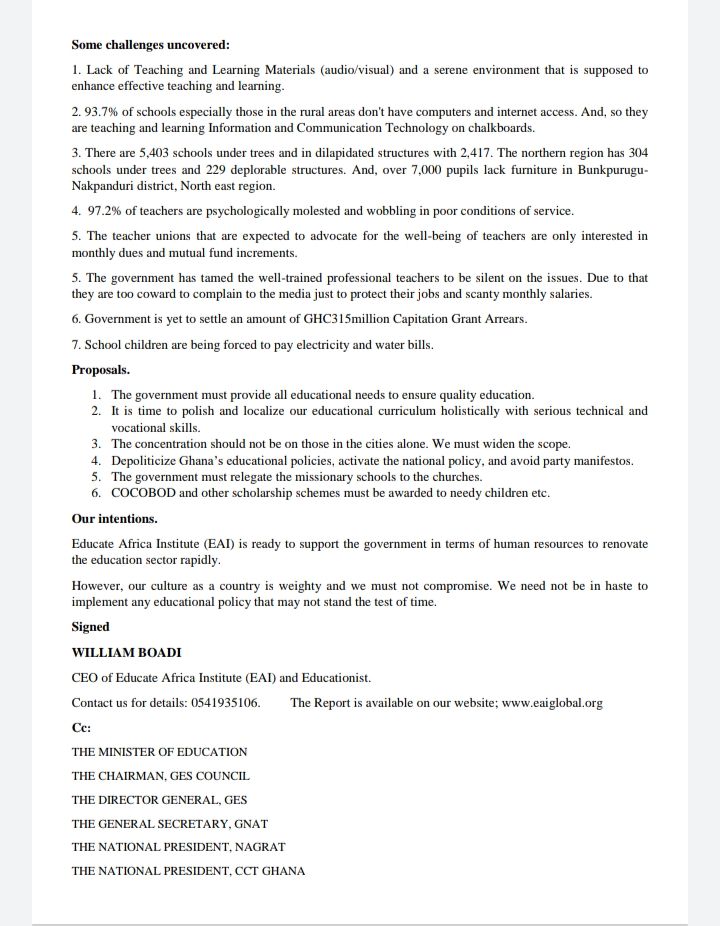 Source: TodayGhanaMedia.com
There are four types of content published on  TodayGhanaMedia.com  daily: curated content; syndicated content; user-generated content; and original content.
Send your news stories to Todayghanamedia@gmail.com and Chat with us via WhatsApp on +233 200818719