Ghanaian actor and a philanthropist , Prince David Osei, has made a U-turn on his earlier decision to support President Akufo-Addo to become Ghana's President.
According to him, he was 'wrong' for giving Akufo-Addo the benefit of the doubt.
In an Instagram post on Monday, the award-winning film actor expressed misgivings about the current state of affairs and blamed the current regime for failing to address the problem.
He said government is not taking the needed actions to lessen the hardship in the country, hence his disappointment.
"I decided to give you and your government the benefit of the doubt, I reckon I was wrong!", he stressed.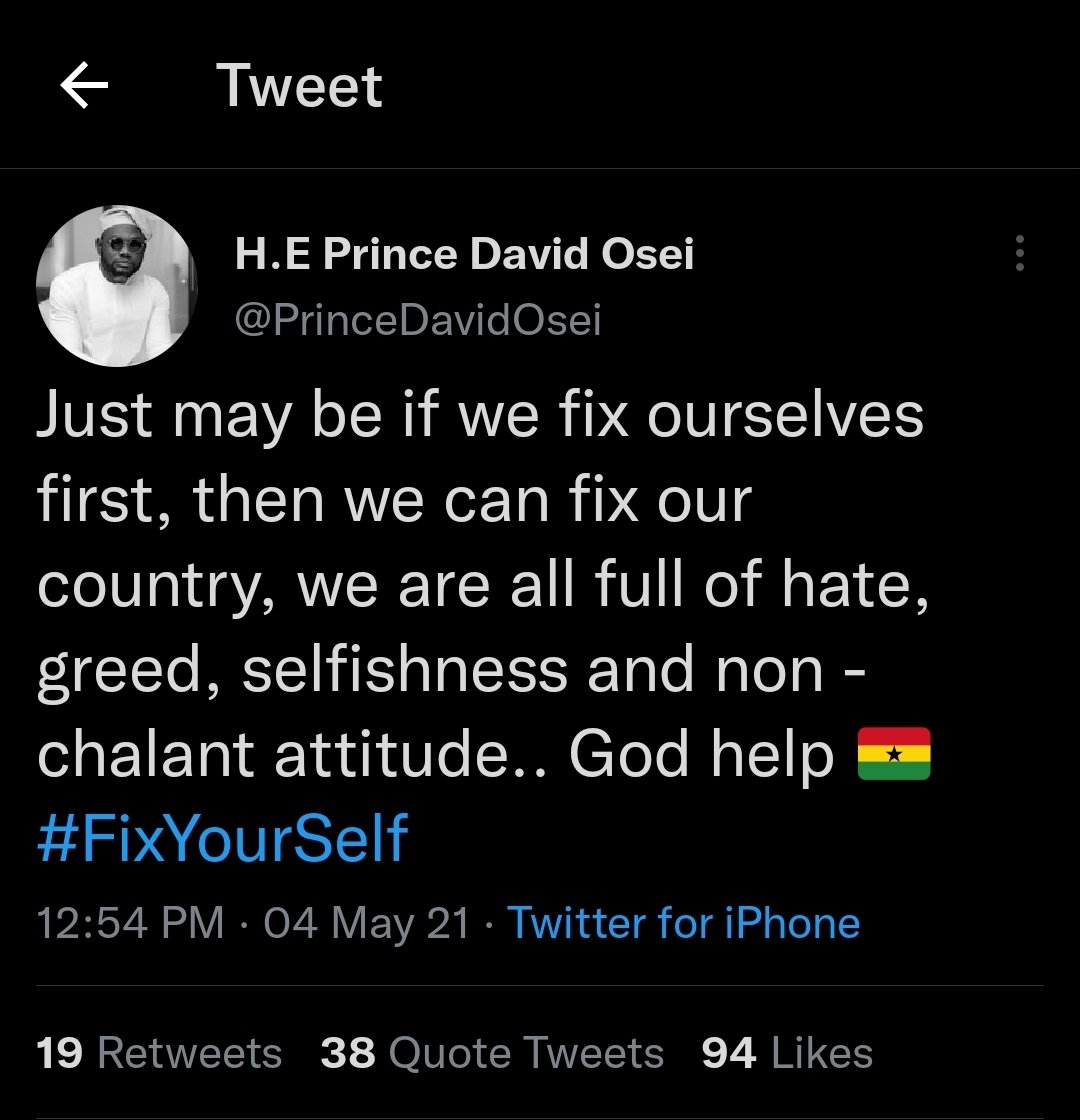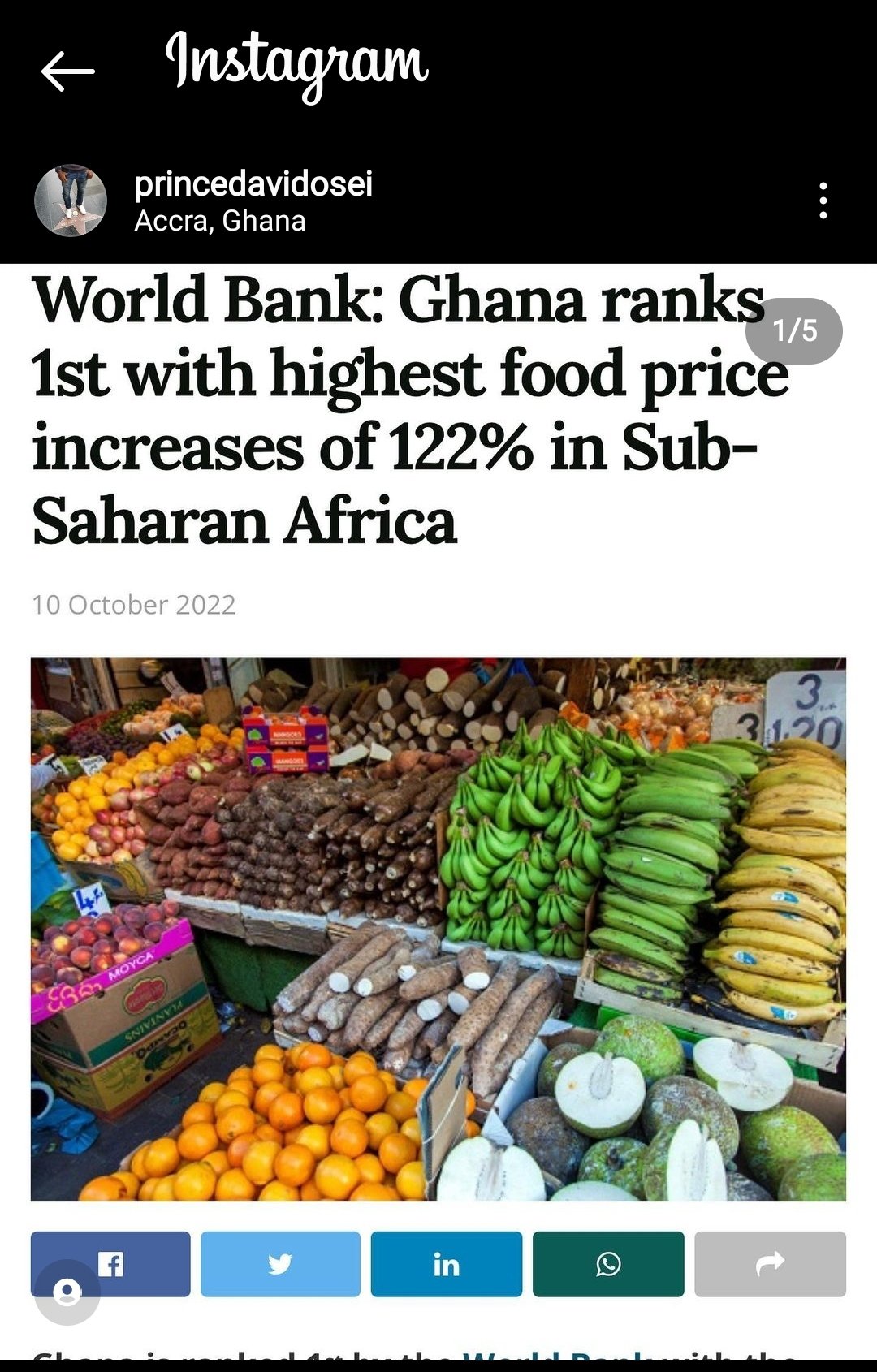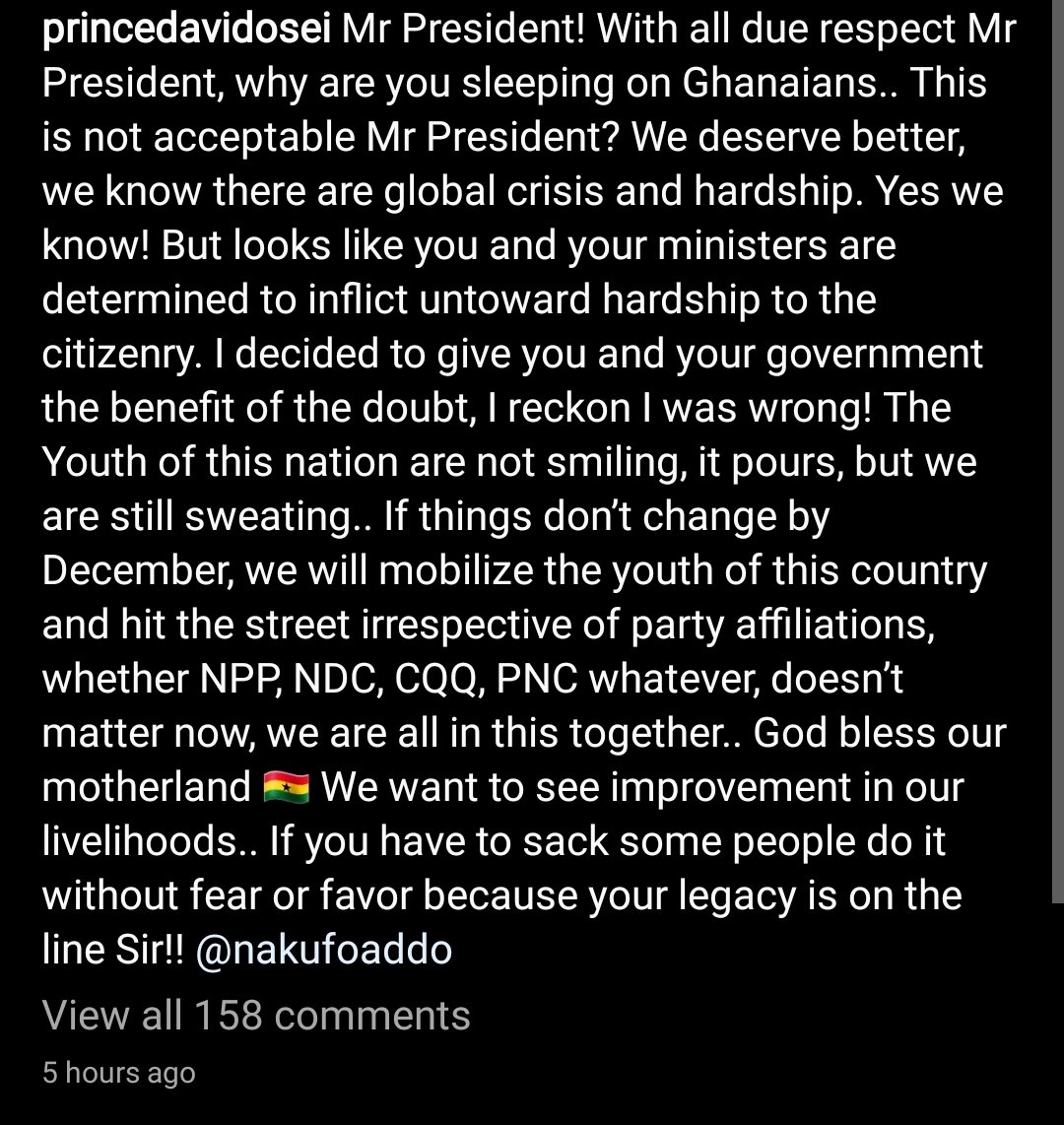 Noting his reservations, the actor further indicated that he will mobilise a non-partisan youth protest against President Akufo-Addo if the current economic challenges do not improve by December.
In his view, the current state of the economy requires urgent actions to salvage the situation.
"If things don't change by December, we will mobilize the youth of this country and hit the street irrespective of party affiliations, whether NPP, NDC, CQQ, PNC whatever, doesn't matter now, we are all in this together. God bless our motherland. We want to see improvement in our livelihoods", he warned.
All good, we are on a mission, the insults and trolls part of growth.. I no vex kraa.. I love you all thanks for making me no 1 trends twitter, shows you guys are paying attention and listening. The agenda is a better Ghana beyond party lines 🇬🇭👍🏾 pic.twitter.com/B4HrXxAz3s

— H.E Prince David Osei (@PrinceDavidOsei) October 11, 2022
The sentiments by the award-winning actor come at a time when scores of Ghanaians are lamenting the hardship in the country.
The hardship, according to many has been fueled by the continuous depreciation of the Cedi, in comparison with other major trading currencies, especially the US dollar.
This has subsequently affected the rate of inflation in the country, with attendant increments in goods and services including hikes in fuel prices.
Many stakeholders have therefore expressed their worry and called on government to take more urgent steps to address the situation.
Presently, the dollar has hit the ¢11 to $1 mark with some forex bureaus in parts of Accra selling a dollar at an average of ¢11.2 on Saturday, October 8, 2022.
Checks by Joy Business indicate that the demand for the dollar keeps surging, as there are very few dollars in circulation.
Some forex bureau operators who spoke to Joy Business on condition of anonymity said the recent interventions by the Bank of Ghana have yielded little return.
Meanwhile, government has assured citizens of its willingness to mitigate the hardship through pragmatic economic measures.
This includes an ongoing talk between the Finance Minister, Ken Ofori-Atta and the International Monetary Fund (IMF), currently underway in New York.
More reaction on social media
Prince David Osei , the dollar says hi ✊🏼

Just sometimes when u are given an envelope to follow the crowd, just think twice ..

GH we dey ! pic.twitter.com/5KYcbapwF3

— Miss Koomson 💜🦋 (@JMbapeppy) October 11, 2022
You dey afronation then somebody rey tap your shoulder. Why aa Prince David Osei say make we go stand opera square then shout fix the country

— KALYJAY (@gyaigyimii) October 10, 2022
It's only a hypocrite who doesn't change his mind, spot on Prince David Osei but you for mobilize your friends and family for the demo mueh😘

— Essel ✌️ (@thatEsselguy) October 10, 2022
Someone should tell Prince David Osei the youth will only join him in protesting after he fixes his hairline cause we don't use "kaf3f3" in leading protests

— NUNGUA (VIEWSDEY)? (BURNA) ? (@burnaculer) October 10, 2022
Prince David Osei turned his back on John Dumelo just because of peanut… he knows very well John Dumelo can do the job but because of his selfishness and greed he went to endorse a woman who doesn't visit her constituency

Wonitwaaaasidi Prince David Osei pic.twitter.com/3DCWGJ0YBM

— Paa Kwesi (@papakwesi_jr) October 10, 2022
We were talking about these things and Prince David Osei said we should fix ourselves. Now u say make we hit street? Go do what?
pic.twitter.com/LsO1SUy5qL

— TWO TERTY 🇳🇬🇬🇭 (@Aboa_Banku1) October 10, 2022
Unless Prince David Osei mobilizes ein family members mmom to hit that street come december

— KB🎯 (@Benedytte) October 10, 2022
Lol please fix yourself first sir @PrinceDavidOsei 🙏❤️ pic.twitter.com/pmg0WFTIj9

— KALYJAY (@gyaigyimii) October 10, 2022
Prince David Osei came to buy waakye 2cedis this morning wey the woman dash am gari. The man really dey pass through.

— Dr. AGYENIM BOATENG (@nakavelli233) October 10, 2022
Are you, Prince David Osei, now a fool to demonstrate against the party you wisely campaigned and voted for under scourging sun? 😂🤷🏾‍♂ pic.twitter.com/90sJ8sh3Yn

— MPK 𓃵 (@MPKwarteng_) October 10, 2022
Are we dragging Prince David Osei today too or he should go and sin no more? pic.twitter.com/34gHjNMHAf

— Twilight🇬🇭🏴‍☠️ (@the_marcoli_boy) October 11, 2022
Now that Prince David Osei is trending this is where Bongo ideas comes in with his kploto takes but stay focused. Antelopes are not the target this evening pic.twitter.com/GggwKiusVX

— KALYJAY (@gyaigyimii) October 10, 2022
Hello Prince David osei, we've heard you but sorry, we are fixing ourselves so do same, nam😤 pic.twitter.com/mC8dmjinDx

— Listowel Mensah (AK-0000317) (@Listo_Mens) October 10, 2022
Prince David Osei forgot the money he took wouldn't last 4 years and is now complaining. He should fix himself lol, 4 more to do more 😂🔥

— NUNGUA (VIEWSDEY)? (BURNA) ? (@burnaculer) October 10, 2022
Prince David Osei after he received de anti #FixTheCountry money.pic.twitter.com/s4UckQwUTU

— SABONZY 🇬🇭 (@sabonzy) October 10, 2022
What christiana Awuni said about Prince David Osei and it's still relevant pic.twitter.com/6s5igEUBj8

— WebkidAfrika (@webkid_afrika) October 10, 2022
Prince David Osei Before & After. pic.twitter.com/yuF8RPNsMR

— Bobby AxleRod ( PEAKY FOOKIN BLINDER) (@DariusKincaidXX) October 11, 2022
Thanks for reading from TodayGhanaMedia.com as a news publishing website from Ghana.
There are four types of content published on  TodayGhanaMedia.com  daily: curated content; syndicated content; user-generated content; and original content.
Are You Suffering From Weak Erection, Low Libido, Premature Ejaculation Or Infections? – Get M-Plus No
  Maccun Plus (MPlus) is for men and women as a natural aphrodisiac with no side effects
Just contact the number below for M PLUS HONEY.
Send your news stories to todayghanamedia@gmail.comand Chat with us via WhatsApp on +233 200818719