Following the chaos that happened at Suma Senior High School last Friday during a soccer tournament in the inter-school (Zone C) competition, The leaders of Sumaman Old Students' Association in the Jaman North District of the Bono region, have  condemned the act, called on the police, the District Chief Executive and the Jaman North district Directorate of education to issue appropriate punishment for the perpetrators who may be found guilty of the brawl between the above-mentioned school and Nafana Presby Senior High school(NASEC) which resulted  into the damage of three buses belonging to three different schools during the (Zone C) match of the inter-school games last Friday.
Speaking in an exclusive interview with Kwaku Mensah Abrampa, Mr. Enock Asante Abdulai, the Public Relations Officer (PRO) of the association stated that the association after hearing the chaos that ensued between the two schools deem it very appropriate to condemn the action and calls for strict penalty for all those involved in the unfortunate incidents to serve as a deterrent to others.
In a press statement issued by the association, they indicated that they are highly disappointed in the act in a sense that it looks like *"as we are building, others are plucking it down,"* and this is serving as a great disincentive to SUMOSA. They are asking stakeholders, particularly the school's administration and those with the most clout in the institution, to ensure a thorough investigation.
We further want to state that whoever is found culpable after the investigation, whether from Sumaman SHS (SUMASS) or Nafana Presby SHS (NASEC) or outside these two sehools, should be made to pay the full cost of the property destroyed to serve as deterrent to the would-be offenders.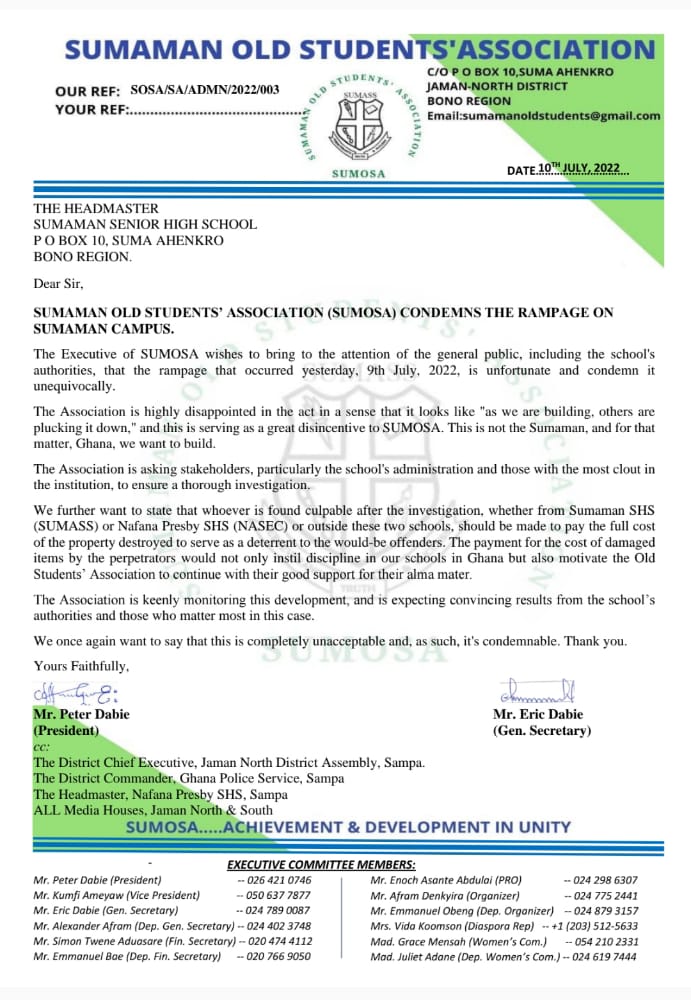 — My Ghana Media (@MyGhanamedia2) July 12, 2022
The payment for the cost of damaged items by the perpetrators would not only instill discipline in our schools in Ghana but also motivate the Old Students' Association to continue with their good support for their alma mater. The Association is keely monitoring this development, and is expecting convincing results from the school's authorities and those who matter most in this case.
Source: TodayGhanaMedia.com / Kwaku Mensah Abrampa – Gye Nyame Fm (Sampa)
There are four types of content published on  TodayGhanaMedia.com  daily: curated content; syndicated content; user-generated content; and original content.