The Black Stars of Ghana have dropped one place in FIFA's latest world rankings.
The four-time Africa Cup of Nations winners are now 61st, after being previously ranked 60th. This means the Black Stars are still the least ranked country heading into the 2022 World Cup.
On the continent, the Black Stars are ranked 11th, with Senegal maintaining top spot. Morocco, Tunisia, Nigeria and Algeria complete Africa's top five.
Brazil lead the way into the #FIFAWorldCup 📈🇧🇷

Here's the FINAL #FIFARanking ahead of #Qatar2022! pic.twitter.com/tIKd2FZIzt

— FIFA World Cup (@FIFAWorldCup) October 6, 2022
👀 Here's how the nations heading to the #FIFAWorldCup sit in the #FIFARanking ahead of #Qatar2022!

🏆 Which nation will triumph in Qatar?

1➡️16 pic.twitter.com/bEg0O9MPV4

— FIFA World Cup (@FIFAWorldCup) October 6, 2022
17➡️32

Some BIG names in this half of the #FIFARanking 📈

Which nation goes furthest in Qatar? 👀 pic.twitter.com/QDkS4O4zuj

— FIFA World Cup (@FIFAWorldCup) October 6, 2022
Brazil also maintain their top spot on the globe in a very familiar top 10, with Italy leapfrogging Spain into 6th, the only change.
172 games were played in total for the latest rankings, with Ghana (5) playing the most games.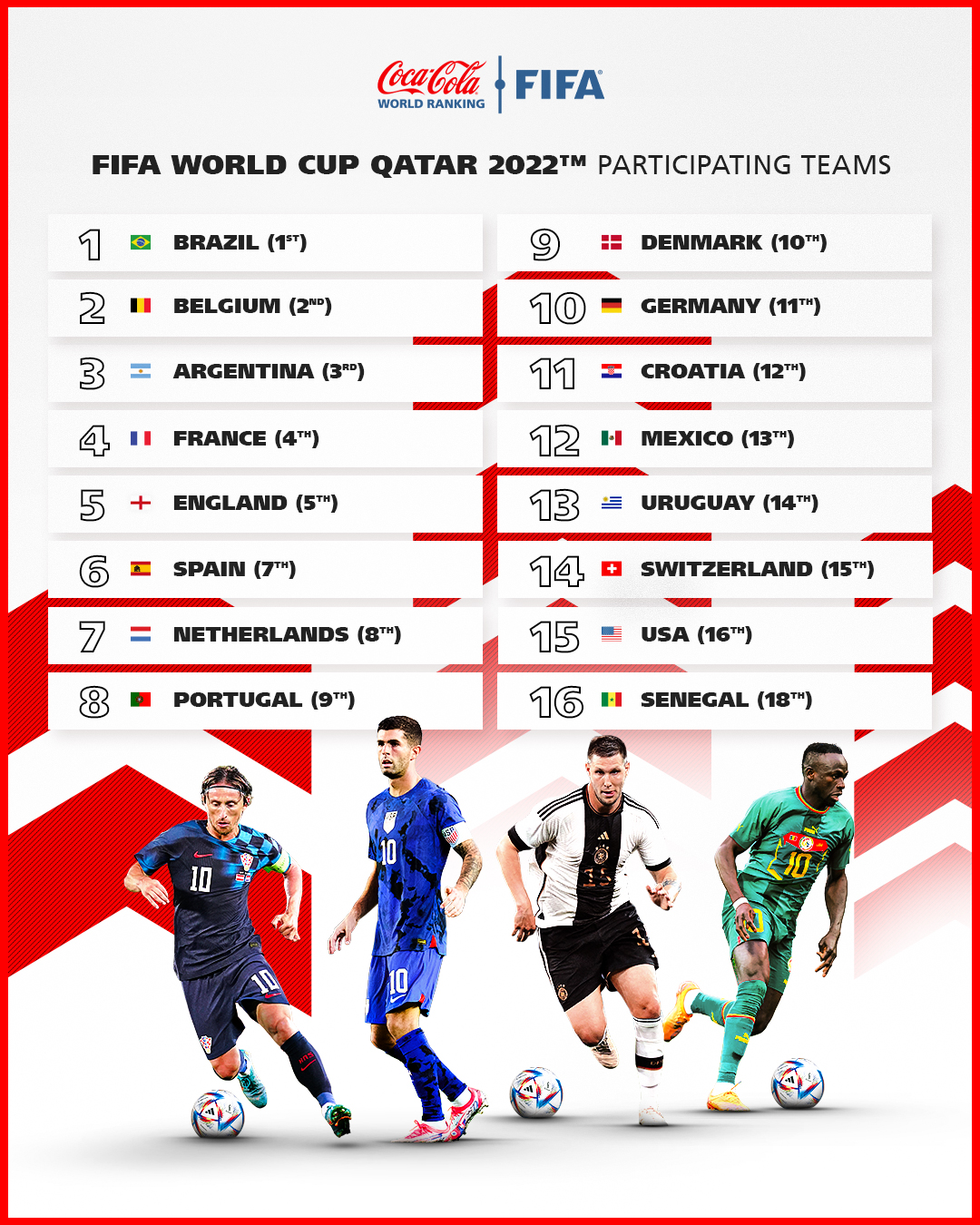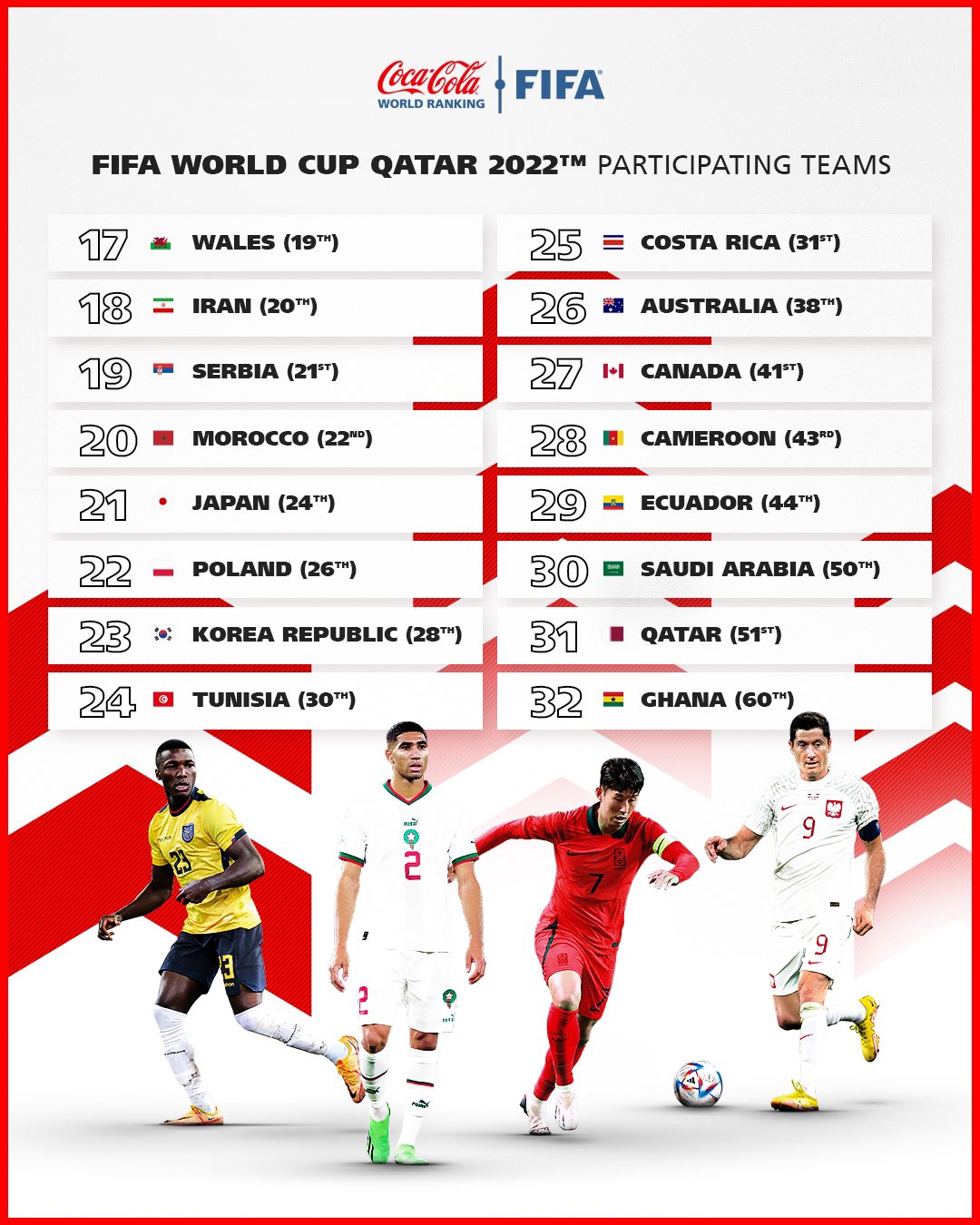 More reactions on social media
Harambee Stars remain stagnant, 102, in the latest FIFA rankings.

Senegal is the top ranked African nation at position 18 globally followed by Morocco at 23.

Brazil, Belgium and Argentina are 1,2,3 respectively.

Detailed report coming up on https://t.co/nVlvF5fT32 pic.twitter.com/rlTBP51Vyd

— Jeff Kinyanjui (@_JeffKinyanjui) October 6, 2022
Wales stay at 19th in the FIFA Men's World Rankings after the Nations League. https://t.co/iVmBU1dDGf

— Ian Hamer (@ian_hamer) October 6, 2022
Ghana 🇬🇭 go to the #FIFAWorldCup as the least ranked country.#FIFARankings pic.twitter.com/JJ8V3rQKya

— Eric Njiru (@EricNjiiru) October 6, 2022
FIFA World Cup 2022 hosts Qatar will enter the tournament ranked 50th as per the World Rankings released by the sport's governing body on Thursday. Brazil head the list, followed by Belgium and Argentina. Champions France are in fourth spot. @QSL_EN @QFA_EN @QFA @fifamedia pic.twitter.com/uTM6rP13iX

— Inside Qatar (@Insideqataroffl) October 6, 2022
FIFA have announced the lastest world rankings 🌎

Brazil still on top 🇧🇷 pic.twitter.com/Idbcsd7V25

— Transfermarkt.co.uk (@TMuk_news) October 6, 2022
Thanks for reading from TodayGhanaMedia.com as a news publishing website from Ghana.
There are four types of content published on  TodayGhanaMedia.com  daily: curated content; syndicated content; user-generated content; and original content.
Are You Suffering From Weak Erection, Low Libido, Premature Ejaculation Or Infections? – Get M-Plus No
  Maccun Plus (MPlus) is for men and women as a natural aphrodisiac with no side effects
Just contact the number below for M PLUS HONEY.
Send your news stories to todayghanamedia@gmail.comand Chat with us via WhatsApp on +233 200818719